Cats and dogs are great for companionship, especially for aging seniors. Animals are playful, affectionate and give their owners unconditional love. Studies have shown that interacting with a pet can actually decrease stress, depression and anxiety. When it comes to senior care, pet therapy has become popular in treating a variety of illnesses including dementia and Alzheimer's. This involves a pet living at home full-time with an aging senior who is responsible for taking care of the animal. Although this method has the best results, it's only meant for seniors who are in relatively good health since taking care of a pet is a huge commitment.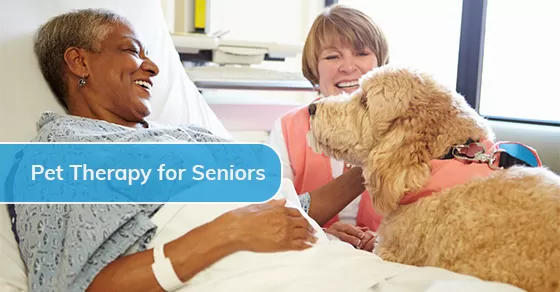 If ownership is not an option, interacting with pets even for a brief moment can be therapeutic. If you're considering the use of animals to help an aging loved one, see if pet therapy is the right approach.
What is pet therapy?
Life as a senior can be challenging. From deteriorating health to the loss of a spouse, the golden years can be anything but. Although adult children may be available to care for an aging parent, it can still be difficult to provide the help they need.
Pet therapy, also referred to as animal-assisted therapy, uses pets for companionship. Its purpose is to improve a senior's social, emotional or cognitive well-being. Animals are brought to the elderly in a variety of different settings. These include retirement homes, nursing homes, hospitals and rehabilitation centres. There is also the option for animals to visit a senior's home occasionally.
How is pet therapy beneficial?
Pet owners, in general, tend to feel less lonely and stressed. They also visit doctors less often and recover more quickly from illness.
It's because of these reasons that doctors began experimenting with animal-assisted therapy for the elderly. For this demographic in particular, pet therapy is beneficial in the following ways:
Pets can encourage seniors to get more exercise and spend time outdoors since dogs need to be walked often
Many seniors who are unresponsive to other treatment tend to be chattier and more open with their pets
Specially-trained animals can help seniors improve their motor skills
Many of the benefits stem from the fact that animals make good companions. Apart from friendship, pets can also improve a senior's self-esteem and encourage social interaction.
Seniors also tend to feel comfortable around animals. That's because animals do not talk back and therefore are non-judgemental.
Seniors can get much-needed exercise if the animal has a lot of energy to burn, and there is increased activity from walking, petting and brushing the animal as well. Meanwhile, you'll often see pet therapists get creative with the activities. Seniors can even be swimming with dolphins or riding horses during their treatment sessions.
Do pets undergo special training?
Yes, the pets used in animal-assisted therapy must have obedience training. The pets must also be sociable and friendly since they are required to meet new patients regularly. They're also trained to work with seniors who are in wheelchairs, crutches and other mobility aids.
How do I find a pet therapy program?
Your local healthcare network should have a number of resources to help you find a pet therapy program for your loved one. Ask your family physician, the hospital or nursing home for guidance. You can also ask someone at your local pet store or municipal health department for details.
Before buying a dog or cat, it's important to ask your aging relative first how they feel about owning a pet. This is a huge responsibility and is only encouraged for seniors who are relatively healthy. Even if your loved one is able to take care of an animal now, many dogs (like dachshunds) are known to live up to 16 years!
If pet ownership is not an option, see if your loved one would consider a dog or cat visiting a few times a week instead. Remember, even brief periods can be enough to make a difference!
To learn more about senior care, call C-Care Health today at (416) 724-2273 or contact us here.