If you or your loved one are in need of professional, regular care, there are many options readily available, including in-home caregiving and assisted living. However, what if you're having a difficult time figuring out the differences between these two solutions?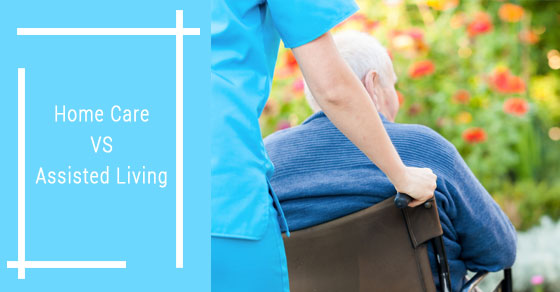 Fear not, as we're happy to clear the air for added peace of mind. Let's help you choose the right option for you or your loved one.
What is Assisted Living?
An assisted living facility is a residence that provides more intensive round-the-clock supervision and assistance. This is the more appropriate option for individuals who live with severe conditions that require active monitoring and specialized care. An assisted living arrangement can ensure optimal quality of life and integrity while minimizing risk to such a resident's health, wellness, and safety compared to remaining at home.
What is in-Home Caregiving?
Under a home care arrangement, professionals attend the private home of the individual being cared for to provide supervision and assistance. This is ideal for those who are of sufficiently sound mind and body to maintain independence in some capacity without putting themselves at risk. Typically, in-home caregiving involves scheduled visits according to a custom care plan. Individuals receiving care are not monitored around the clock, and instead benefit from social stimulation in addition to assistance with basic daily living needs.
How to Choose Between Home Care and Assisted Living
Here are some criteria to consider when deciding between home care and assisted living:
Your Loved One's Level of Independence
Home care offers your loved one greater independence, as they retain control over their schedule and routine. In an assisted living environment, your loved one will eat and partake in activities according to a pre-set schedule. For an older person who can live more independently, an assisting living facility can become stifling and cause emotional distress.
Budget
The incremental cost of moving into an assisted living facility will be greater compared to receiving home care. This is because assisted living is a more comprehensive arrangement, providing housing, food and food preparation, personal and health care, and social activities. Your loved one may only need some of these services, so it could be unwise to pay for a comprehensive bundle of components that aren't all required at this time.
Privacy Needs
In an assisted living arrangement, multiple residents can be housed together, sharing some common spaces with some spaces of their own. Inevitably, this leads to less privacy. For seniors who place a high value on their privacy, an assisted living arrangement may not be the best option.
Medical Requirements
The main advantage associated with an assisted living arrangement is the capacity for more intensive medical care to be delivered around the clock. This means that seniors who may be at risk of suffering an injury or sudden medical problem may be better suited for an assisted living environment. However, people with medical conditions that simply require routine care may be indifferent between the two options. A nurse or personal support worker providing in-home care is well-suited to attend your loved one's home regularly to change bandages, administer medication, and address other medical needs.
Planning Ahead
If your loved one is living with a condition that will not improve but instead progressively worsen as the years go on, they may not need to enter an assisted living facility for some time if at all. In-home caregiving is an ideal choice in many instances, as it helps to maintain their comfort, sufficient independence, and integrity in familiar surroundings. This may be able to continue for several years, depending on how or whether the symptoms of the condition in question intensify. Once it becomes clear that your loved one needs a more advanced level of care, an assisted living facility or other alternative care option can be explored to ensure their continued safety and comfort.
All in all, it is important to consult with your loved one to determine the things they value most, and understand their preferences, so they can maintain the highest quality of life while they and their loved-ones have peace of mind knowing they are well taken care of. For more details on how we can help at C-Care, including our home care services, contact us today.