Despite knowing it's in their best interest, it can be hard to first begin the conversation about getting help for an elderly parent. Many older people fear they'll lose their independence if they enter a full time care facility or have caregivers come to their house when in reality, home care and long term senior care centres allow people to keep their independence while receiving the help they need.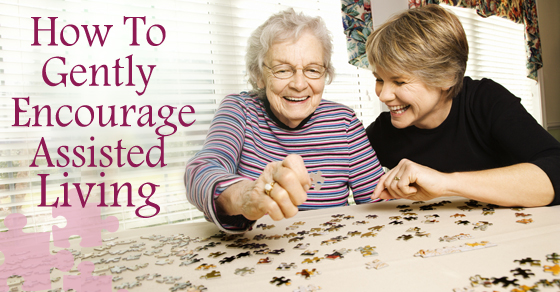 Regardless of the benefits as you see them, it can still be challenging getting that message across to your aging family member.
Try exploring these pieces of advice to help your parents understand that they need help while reminding them that you only want what's best for them:
Everyone must agree:
Before you approach your parents about acquiring home care or entering a seniors health centre, you and your siblings (or whoever the other decision makers are) need to be on the same page. Have a discussion with the involved parties to ensure you not only want what's best for your parents, but you all want the same thing. Different ideas and attitudes towards eldercare can confuse your parents and make them uneasy about getting help.
Learn the terminology:
The term "nursing home" comes with many negative connotations. Numerous news reports contain graphic footage of elderly people being assaulted and taken advantage of in so-called nursing homes. Assure your parents that they will not be going to a nursing home, but a long term care facility. These offer room and board, scheduled activities, and provide a safe environment where seniors can live out their remaining years as freely as possible.
Let them choose the care they want:
Instead of making a decision for them, allow your parents to interview different home care workers. Let them decide who they want taking care of them. For home care facilities, go with them to visit different locations and let them make the final decision as to where they'd like to go.
Offer support:
Remind your parents that getting old is never easy and that you want to see them happy, instead of worrying about whether they're safe at home alone.
Everyday activities can become burdensome as we age. All you want is for your parents to be able to live comfortably and not have to worry about simple tasks like cooking, cleaning and even getting out of bed. Tell them that you are willing to help out as much as you can, but a trained professional caregiver or nurse can offer more.
Remember that they're adults:
Don't talk to your parents like they're children when broaching the subject of eldercare. Some people feel the need to simplify conversations about home care and senior care centres to convince their parents to get assistance. This is counterproductive and will not convince your parents that they'll retain their independence, but will instead likely make them feel disrespected.
The simplest thing you can do is be honest. Let them know that you'd rather have them safe than home alone, and express why you feel this is the best way for them to do so. For more advice and information, contact our team today.