While surgery can be taxing on both the individual who is undergoing the surgery as well as on their caregivers, it is possible to increase the rate at which you heal after surgery. Here are some tips to speed up your post-surgery recovery.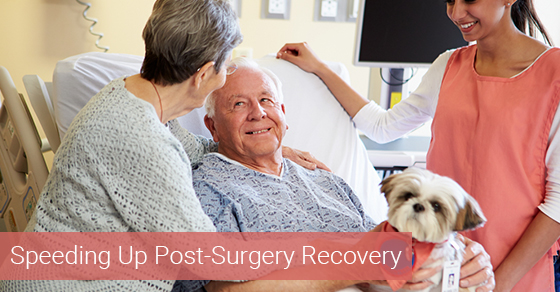 Follow Your Doctor's Post-Op Instructions (And Don't Skip Follow-Up Appointments)

It is all too common for people not to follow the doctor's post-op instructions or to do so but ignore parts that they deem unnecessary. To ensure the best recovery possible, it is important to follow all of the doctor's post-op instructions. This is important even if you or the one you are caring for feels well physically. Not doing so could result in additional issues, from infections to excessive bleeding. Lastly, don't skip follow-up appointments as your doctor will be able to see things that you will not be able to.

Eat An Extra Healthy Diet (Even If You Don't Feel Like Eating)

After surgery, it is common for people to experience nausea or constipation that may make them not feel like eating. But if you want to feel better faster, it is important to eat as many healthy foods as possible. All of the antioxidants and other nutrients will help to speed up recovery. Vitamin C is important, making a smoothie full of vegetables and fruits a good option.

Also focus on eating good sources of protein as protein speeds recovery. Foods such as quinoa or beans are good options.

Keep Pain In Check

It is important to keep your pain in check as feeling too much pain can lead to additional health problems such as blood clots or pneumonia. Keeping your pain in check can mean taking a rest from doing typical daily activities and not pushing yourself. It is a good idea to consider asking a friend or a family member for help. You might even consider asking for outside help from a professional healthcare service provider, who can take care of you while you are recovering.

Incorporate Movement Into Your Life

As soon as you are given your doctor's approval to incorporate some movement into your daily life, this will be beneficial to speed recovery, and help to get your digestive system moving. This will also prevent further complications such as blood clots and pneumonia.

Take Other Preventative Measures

Ensuring that your recovery is as quick as possible also means that you take care not to promote complications. For example, this means avoiding infections by washing your hands before touching a wound and monitoring your incision for any signs that it may be infected. Ensure that you do not over-sterilize your incision site by using alcohol.
C-Care Health Services offers a variety of affordable, personalized and high quality services. Contact us today to learn more.