There are many senior citizens in this world who have independent minds. They like the idea of looking after themselves and the idea of living on their own. This is especially true after a stint in the hospital for an injury or illness; most senior citizens fear for their independence on their return home.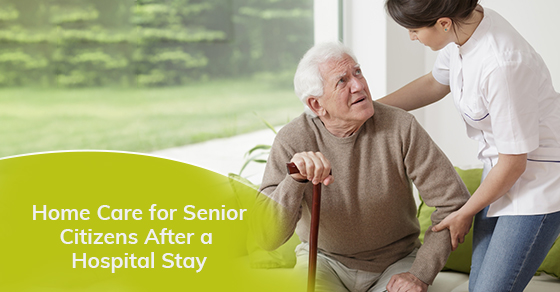 It's true that there will be certain situations that require senior citizens to seek help with daily responsibilities and tasks. Senior citizens who don't want to have to transition to live-in care facilities after their hospital stay don't need to fret, because there are other options available. They can opt for home care that will help them hold on to the lifestyle they're familiar with and love. Home care opens seniors up to support that doesn't involve them ever setting foot outside of their residence, and that can help them in several ways.
Here are a few of the benefits of home care for seniors who have recently had a stint in the hospital.
Feelings of Pride
Senior citizens who are given no choice but to move from the hospital into care facilities often feel stripped of their pride. They often dread the idea of residing in a nursing home. Home care offers all of the good things about nursing homes without any of the possible drawbacks. Seniors who are able to return to the luxury of their own homes often retain their feelings of self-worth.
Peace
Serenity is something that most senior citizens crave, as do most humans. Seniors are in many cases upset about the idea of living right next to other people and often object to the non-stop action. A stay in the hospital can be quite traumatic, so it's natural for them to want to return to their homes as soon as possible. Seniors who are lucky enough to be able to return to their personal homes can revel in the peace they desire. Adapting to a brand new environment that's hectic and unpredictable can often be too much to ask of senior citizens, and causes more harm than good.
Stability and Consistency
Uprooting seniors and bringing them into environments that are unfamiliar can be rather nerve-racking. It can interfere with their feelings of stability and consistency, too. Seniors are often highly routine-oriented individuals. Moving them into nursing homes can rock their world in unpleasant ways. Allowing them to return to their own homes and receive care at home, however, can be a true gift.
Qualified Professional Attention
Life alone can sometimes hazardous for senior citizens. Elderly people often have medical concerns that stop them from being able to manage basic tasks the way they were able to in the past. Elderly individuals often have physiques that are weaker than they used to be; care at home can provide seniors with the professional attention they need to keep well-rounded, productive and balanced daily lifestyles.
Even if they still require extensive monitoring and treatments after a hospital visit, trained and seasoned caregivers can be available to aid seniors with all sorts of things. They can help them with straightforward medicine administration, and even assist them with pressing medical emergencies that call for speedy reaction times.
Time Conservation
Time is always an indispensable resource. Residential care for seniors is convenient due to the fact that it doesn't squander time or money; in reality, it actually saves it. Seniors who only require help with certain tasks don't have to spend their lives in nursing facilities that offer a range of services that they don't need.
Feelings of Self-Sufficiency
There are many older people who adore being able to do things on their own without any outside intervention. Seniors who are able to return home for care purposes often retain their feelings of self-sufficiency. Residential care differs from other options in that it can make people feel a lot more liberated. If a senior wants to avoid feeling restricted after leaving the hospital, care at home may be the best bet for them.
Privacy
Seniors who want to be able to relish optimal feelings of privacy often prefer care at home. It's not atypical for seniors who reside in nursing homes to feel like they're constantly cornered by other people. Those who want to be able to feel they have privacy can get a lot out of having care brought to their homes.
Enhanced Wellness
Senior care at home can be terrific for older people who want to reap the rewards of enhanced wellness. Residential care can in many situations do wonders for senior health, especially after what is often a traumatic stint in the hospital. It can often aid them with mobility, breathing patterns and more as well. Seniors who get care at home are less likely to return to the hospital later.
Individualized Support
Home care for seniors can give them the convenience of support that's 100% individualized. Caregivers assess seniors' specific health requirements and lifestyle wishes. That's how they're able to customize strategies that can accommodate individuals' requests and overall health situations.
Occasional Interactions
Seniors sometimes get lonely. Care at home can be a terrific thing for seniors who wish to occasionally interact with others, particularly when they are a friendly face. It can be a joy to hold a conversation with their regular nurses or helper, which isn't always the case with care facilities.
If you have a loved one who is leaving the hospital soon and you are concerned about their ongoing care, C-Care Health Services can help you out. We have a reputation for private residential care that's attentive, detail-oriented, nurturing and enthusiastic. We offer people everything from help with dementia to help with healing after a stroke. Call us at 1-866-676-2282 or contact us.