Alzheimer's disease is well-known, not only as being incredibly common in seniors and a leading cause of death, but also as being devastating and emotionally difficult. Those who suffer from Alzheimer's experience symptoms such as: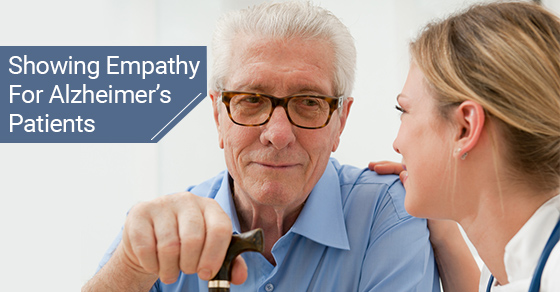 Short-term memory loss.
Disorientation.
Mood swings.
Behavioural issues.
Alzheimer's doesn't only affect those who have it, but also the family and friends who help to plan and organize care, and who deal with the emotional effects of memory loss and changes in mood and behaviour.
It's important to remember, when dealing with Alzheimer's patients, that they are still human beings with emotions, and that we must put our own feelings aside sometimes in order to improve their lives. Here are some ways to let those with Alzheimer's know they are loved and cared for:
Patience and Compassion

Memory loss is one of the earliest symptoms of Alzheimer's, and can be difficult to deal with. Spending time with Alzheimer's patient means a lot of forgetting, and repetition. This can be frustrating, but it's important to always respond with compassion, and avoid becoming short or exasperated.

For those whose loved ones have Alzheimer's, it's hard to accept that they are no longer the person they were. Sadly, it must be accepted, and with patience and compassion you must learn to relate to the person they currently are.

Fight for a Cure

There is still no cure for Alzheimer's, but the research continues in the hope that one day a cure will be discovered. Contribute to research by participating in charity fundraisers, or making donations. Additionally, just by speaking with friends and colleagues, you can raise awareness about the disease in others.

Remembrance

Even though Alzheimer's robs the person you once knew of their memories, freedoms, and abilities, remember there will still be moments when their personality shines through, and that you should cherish those moments. Remember that those suffering from Alzheimer's know that they are ill, and they too are frightened. It goes a long way to acknowledge that although the disease has transformed them, they are still a human being.

During this time, it's important for you to remember that although Alzheimer's may have taken away essential parts of your loved one, that doesn't mean they are no longer that person. Treat them with dignity, and respect, look them in the eye, speak with them, and laugh with them.
C-Care provides high-quality, fully customized care for those with Alzheimer's. Contact us today, for more information.