How often do you find yourself driving in the car and a familiar song from your past comes on the radio? It evokes memories, most likely good memories, and you are instantly taken back to that time of your life. Music can do amazing things!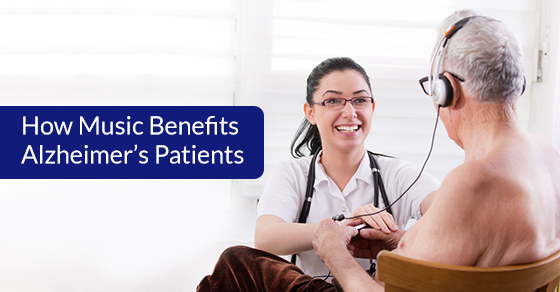 Music can do the exact same thing, and even more, for Alzheimer's patients. Music does not require any mental processing, and in fact, music appreciation and aptitude are the last two abilities that Alzheimer's patients retain.
For this reason, using music in Alzheimer's care has countless benefits.
Why Use Music in Alzheimer's Care?
The key brain areas associated with musical memories are not damaged in Alzheimer's patients. Music can help evoke emotions and memories and improve communication. Researchers have concluded that caregivers can use music to positively address the cognitive and emotional symptoms of dementia and Alzheimer's.
The right kind of music can:
Relieve stress
Reduce agitation
Lighten the mood
Help manage pain and discomfort with less use of drugs
Provide an opportunity to interact with others socially
Aid in movement
Reduce anxiety and depression
Tips For Using Music With Alzheimer's Patients
If you are the caregiver for an Alzheimer's patient or if you are receiving professional Alzheimer's care, you can use these tools to encourage intellectual and sensory stimulation as well as improve quality of life.
Pick the right music
If the patient likes big band music from the '40s, collect a list of artists and try them out. See if your loved one responds to certain ones and not others. It will bring back good memories of their youth and may also bring back the "feeling of life" for them. Many times, although they may be confused about most things, they will find themselves remembering and singing every word of a song.
Try Broadway showtunes and movie music
Certain musicals have universal appeal. Hello Dolly, The Sound of Music, and Oklahoma have happy upbeat tunes everyone can enjoy.
Sing together
Encouraging Alzheimer's patients to join with others promotes physical closeness and communication. Singing together may lead to dancing, clapping, hugging, holding hands and may add to their sense of security. Seasonal holiday songs are great opportunities to include family members in Alzheimer's care.
Pick certain music for daily activities
Routines are important. Choose the same tune to play every day upon waking up to help with getting out of bed or getting dressed. Pairing music with certain day-to-day activities can help patients recall the memory of the activity. Your C-Care Health Services professional can utilize these routines to improve cognitive function.
Develop playlists
Develop playlists that can be used any time of day to soothe, relax, or change the mood. Add an app called SingFit, which includes sing-along activities.
Music can be magical if used appropriately with Alzheimer's patient care. Contact C-Care Health Services. We are ready to assist with any type of Alzheimer's care.