After all of the stress and strain of preparing for a knee surgery, many Canadians do not follow optimized recovery plans. This often results in increased recovery times and a risk of relapse. To combat this, it is essential that you work with your doctor to prepare comprehensive pre-surgery and post-surgery recovery plans.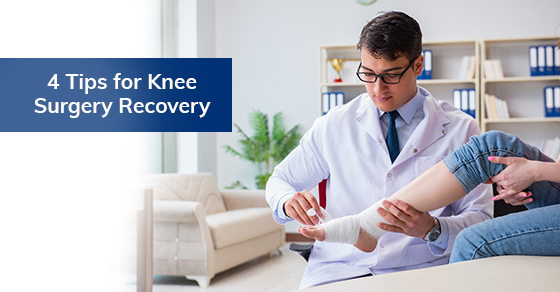 C-Care has a number of trained professionals including Personal Support Workers (PSWs) and in-home nurses available to assist in post-surgery recovery. Our rehabilitative techniques help you ease your way back to full recovery with a specific routine that involves daily physical activity and exercise. Not only can this help improve your mobility while recovering, but it can speed up your recovery time and increase the likelihood of a full recovery. Although the relief of a successful surgery is great news, there is still a significant amount of work involved. It takes discipline and commitment to follow a recovery plan, and our post-surgery support nurses can help you every step of the way.
Knee Surgery in Canada
The demand for knee surgery in Canada is growing every year and wait times are increasing at a similar rate. According to CBC, only 69% of knee-surgery patients in Canada in 2017 actually received their surgery within the recommended six-month wait time, down from 82% in 2015. Although some clinics are trying to combat the stress of long wait times and staying many nights in the hospital with six-our knee replacement surgeries, wait times continue to rise. Longer wait times increase the risk of further injury, decreased mobility, and longer recovery times.
Beyond that, they also contribute to increased stress before the surgery, which is an overwhelming burden for many Canadian patients. Because of this, it is essential that you plan a detailed pre-surgery and post-surgery plan. Our C-Care nurses are available 24/7 for assistance with post-surgery recovery, and we are flexible enough to work around your schedule to provide you with the care you need. As a guide, here are four tips for knee surgery recovery: